Teacher and Parent Training
I offer introductory sessions for interested staff and parents in Tasmanian schools which may run for 30 to 60 minutes or up to 2 hours.

At present I am the only trained facilitator of these workshops in Tasmania. However I believe there is the potential for an instructor in every school community. This could be a parent or teacher and I am most willing to discuss the possibilities of training.
Fees
Free Introductory Talk and Demonstration for Staff and/or Parents

Workshops as for casual or relief teaching Band 1 Level 12 with a minimum of three hours per day plus travel allowance if more than 30 minutes from Hobart.

Feedback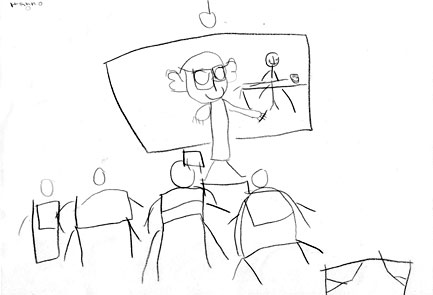 Mr. Taylor teaching Connected Kids by Harry, 7.
Parent and Teachers have responded very positively to these sessions with comments such as
"This is the kind of thing they should be teaching in schools!" - Parent from Blackmans Bay, Tasmania
"This is very empowering for children." – Principal, a Hobart Primary School
'My kids are happier and Amber is much more relaxed and anxiety is down.'
- April Masterton, Hobart.
More feedback from parents and students here
Contact me to arrange a Connected Kids workshop for your staff and students.