Now King Janaka had to make a fire to cook his dhal.  The smoke hurt his eyes and it took a long time for the pot to boil and the lentils to cook, but eventually he could turn his dinner out onto a banana leaf to cool.
Then, as he was about to eat, two wild boar came screaming and fighting through the clearing, right over the king's food, mashing it into the mud!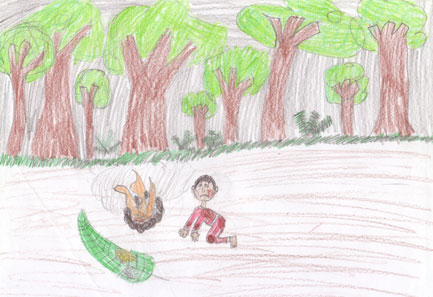 Poor Janaka could take no more.  He cried out in his pain, and tears ran down his cheeks…and with that, the king woke up!
There he was, in his royal bed in his royal palace.  But for the king, everything had changed. 
"Was that a dream, or is this a dream?" he wondered.  "Perhaps I am defeated in battle, starving on the mud of a far-off jungle clearing and dreaming that everything is normal! 
Who am I?  What is going on really?"
Janaka turned to his trusted advisors for help, his teachers and philosophers.  But as he listened, he soon tired of their explanations and, to teach them a lesson, ordered them to be thrown into the castle dungeons.
Now in that city of Mithila lived a wise man named Uddalaka and his wife Sujata with their young son, Ashtavakra, so named because he was born with eight bends or deformities.  One day, Astavakra's father did not return home from his teaching duties, and the boy could see that his mother was worried.
"Where is my father, and why are you sad, my mother?" he asked.
"He has gone to help answer the kings great question, and I am afraid that he too has failed and been put in the dungeons like so many others who have tried" sobbed Sujata.
"Then I will go to the palace and answer the king's question to free my father!" proclaimed Ashtavakra, and, despite his mother's pleading him to stay home, he set off for the royal palace at once.