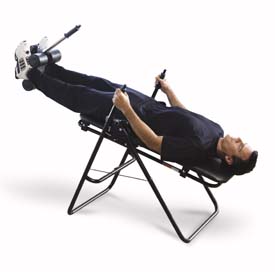 I spent the next week in bed between doctor's appointments. Our GP at the time was Dr. Jim Duff who also practiced homeopathy and acupuncture. And he loaned us an inversion table that had me stretched out and almost hanging from my ankles to take the pressure off my sciatic nerve. It helped, and I recovered after a week or so.
However, after that and for the next twenty years I had to get a tune-up from my Chiropractor/Kinesiologist every six to eight weeks to help me stay pain free and balanced.
"
You'd be good at this!"
Then the day came, in 2007, when I let myself in for a tremendous amount of stress (that's quite another story which I tell here) and the resulting shoulder pain and lower back pain even my Chiropractor couldn't help. He recommended I try either a Bowen therapist or some acupuncture. I ended up at the Body Balance Center in Hobart, Tasmania with Katerina having a Bowen treatment.
It was one of those pivotal moments in my life. Lying there, looking down through the massage table head hole, I had the thought that I'd like to learn to do this too! After all, she was "just" doing a few gentle moves on my muscles and tendons then leaving me for a few minutes to "process".
I had a talk with my therapist and she said those encouraging, life changing words, "You'd be good at this!"
A few weeks later I was enrolled in a course in Bowen Therapy. And I was OK at it too, but that wasn't to be the perfect fit for me, rather it was a preparation for something.
I learned that healing can happen on a purely energetic level, without even needing to physically touch the person!
Here's what happened…and how it led to me becoming a Reconnective Healing Practitioner and finding my present path.
How I Lost My Skepticism

A family member had inherited my scoliosis with the resultant lower back pain and, after a series of treatments from complimentary therapists including Chiropractic, Osteopathic and Kinesiology, we were resigned to the need for surgical intervention in order to stop the degeneration of the spinal curve.
At the time I was mid-way through the Bowen Therapy course, so I asked my trainer if there was anything I could do to help the patient recover. She said that I wouldn't be able to use touch but that I could do a "surrogate" procedure where I had his mother hold his hand while I did a few moves on her back. This, she said would help the patient come out of the effects of the anesthetic.
So it was on the second day after the six-hour operation that I remembered the advice. The drains were still in the patient's chest, the morphine pump was dripping on demand with the patient fast asleep. With his mother holding his hand, I did the few Bowen moves on her back.
Immediately, the patient woke up and looked at us. "I can feel my back! I don't want to feel my back!" he complained, and went promptly back to sleep!
We were in shock! This stuff actually works!

It was experiences like this that re-opened my eyes to the reality of energy healing. I should have remembered also that, during the 1990s, I'd often used Reiki to great effect for myself and my children. In fact it was the main thing that helped one of my children cope with childhood asthma.
OK enough of my story, now let's get practical!