The Universal Sphere
®

Activation:
A 'Mega-Boost' to Help Us Align to Our New Abilities to Heal and Balance Our Lives


In April 2015 I attended a seminar with Holly and Paul Marwood to learn to facilitate a new alignment technique called the Universal Sphere™.  Now, if you knew me you'd understand that I have been of a fairly skeptical mindset when it comes to new-age things that have been 'channeled' by non-physical dudes from beyond the 'veil' and only tend to take on something if there is some kind of logical/scientific and experiential foundation for it.

 

I met Holly in 2011 when she was an Associate Instructor with The Reconnection teaching team and also responsible for implementing the Reconnective Kids program. I was training as a Reconnective Kids instructor with Dr. Bronwyn Lakay in Sydney while Holly was visiting Perth, Western Australia where she had recently met her future husband, Paul.

 

Since then I've followed their business activities with much interest. Now located in Holly's home territory of California, they started the Akasha Healing Studio, offering not only Reconnective Healing and The Reconnection but also readings of your Akashic Records!

I'll write more about the Akashic Records here soon....probably!


Since attending the new Foundational Reconnective Healing seminar with Eric Pearl and the team in Queensland in 2014, I have modified my approach to healing sessions based on some of the exercises learned there.

One modification involves using the 'distance healing' method even when a client is physically present.  When I read about Holly and Paul's Universal Sphere activation it sounded very like what I had been intuiting in my practice. (I love it when that happens!)



So what is the Universal Sphere?
It's an 'activation' which opens us to receiving more consciousness and light. In practical terms it involves the recipient relaxing – either sitting or lying down – while the practitioner does the simple procedure which takes about 15 minutes. The recipient is then advised to continue to relax for up to 30 minutes to enjoy and absorb the experience.
Here is a more in-depth description of the experience from Holly and Paul Marwood's site:
http://www.soul-genesis.com/2015/03/27/ishtara-the-benefits-of-the-universal-sphere-26th-march-2015/
I started practicing the Universal Sphere in April 2015 with considerable success every time.


Here is some feedback from my good friend Helen after her first Universal Sphere session which was done as a distance healing, both of us at our respective homes some fifteen kilometers apart:

Hi Michael

Thank you for that it was a very interesting session.

I lay on my bed, got myself comfortable and straight away saw lots of colours swirling around me.

I relaxed into these colours and felt a very gentle pressure on my forehead; it felt warm and loving.

I then noticed lots of tummy gurgles.

I then felt an activation of my knee. I have had trouble with it. It felt a fairly strong but not painful, buzzing / healing sort of feeling.

The feeling then went up my leg to my buttock and sat working on my right iliac joints and down to my big toe. It then stopped working in my knee (which at this stage felt nice and healthy) and started going down my calf. Mid calf it sat there for quite a while and was strong but again not painful. It then moved down further in my calf, sat there for a while and then stopped. The whole leg, from big toe to buttock then felt quiet and healthy.

I then felt as though I was being aligned. I am not sure how to explain the feeling but it felt as though my centre was being straightened, calmed and allowed to flow gently.

This was a lovely feeling so I just relaxed into it further and then my body started to fidget so I thought that it must have been the end of the session and got up.

What an interesting experience!

Love,

Helen

Helen McDonald

"I also sat in on another session that Michael was giving. Michael and I had worked together before.

As the session started I 'saw' lots of energy fluttering in the recipients head (where she had had some challenges) and also in her right lung near her sternum. It then went around her whole right breast.

I then 'saw' the energy just settle into a beautiful calm flow of energy around her body."
---
The next session was with my friend Ronald who lives in Scotland. He messaged me afterwards:
My depression [cleared] up then then up!  Wish I could tap in too… wow express hand shake!  How did that happen so quick?!
I have continued to offer the Universal Sphere with my regular healing sessions and clients often remark on the change in energy, often indicating that it feels more physical in nature.

So now I feel I have had enough experience to be able to confidently offer this to you. To book your session please contact me any time via this page.
Remember this is available regardless of where in the world you live.
Scientific Evidence for Benefits of the Universal Sphere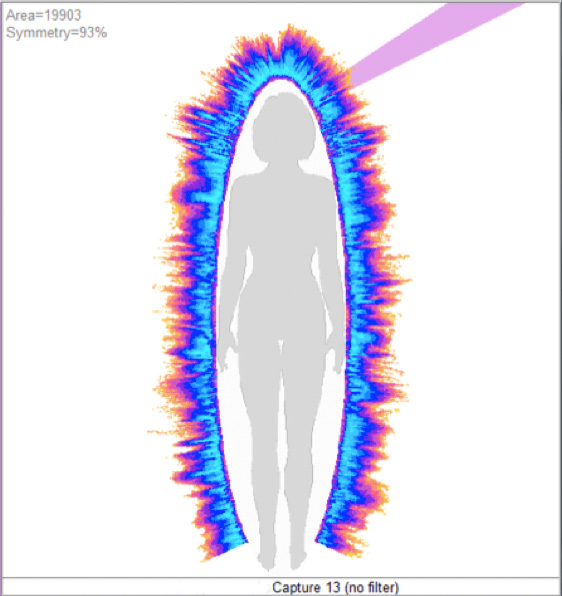 This is the first little science experiment with the Universal Sphere activation and I think it's pretty impressive.
My opinion is, however, that any science needs to be backed up by what Dr. Gary Schwartz calls 'self-science' - the personal experience we have that proves something is real - to us!
You can learn more about The Universal Sphere here.